THE SUMMER'S APERITIFS : part 2
It's summer, it's nice and warm. What could be better than a simple fresh aperitif with creamy and caviar butter to spread without moderation.
At Caviar Black Pearl we raise our sturgeon Acipenser Baerii and Gueldenstaedtii in our farm in Eyzies de Tayac, in the middle of an environment classified in Zone Natura 2000, fed by La Beune stream whose water come from a spring in St Geniès is classified as category 1. 
We raise them in an eco-responsible way, their food without GMO and HEMOGLOBIN is taken from a French producer. They are at a rate of 4/m² (instead of 10 – french average) which allows them to evolve easily in open-circuit watersheds with quality water and without any treatment.
After the production of caviar, Anthony our laboratory manager helped John to remove the sturgeon nets from which they will smoke part. Then we supply these fresh and smoked fillets to the Fish farm of water from Inval, at 24590 Borrèze (30kms from Eyzies) where our Crémeux are made.
The recipe is simple: whole cream, agar-agar, fresh and smoked sturgeon and trout fillets sterilized. All you have to do is enjoy them… and nothing could be simple, imagine yourself on a summer evening, with friends, on the terrace…. Just take the creamy glasses (freshened in the fridge), open their lid, dip your spreader knife in this creamy texture and spread it generously on good bread!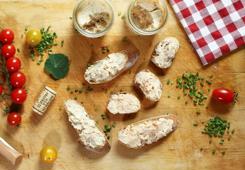 For more delicacy what better than to continue this convivial and tasty aperitif with caviar butter. We make our butter with ½ salt churn that we take at the Fromagerie d'Audrix 18kms from the fish farm, which we remix with more than 20% mature caviar. Imagine this toast bring to your mouth, the crisp of fresh bread and above the melting of an excellent butter, sublimate at the end of the mouth with this aroma of mature and powerful caviar….
The little extra of Margaux: accompany your buttered bread with caviar butter with radishes …. With the temperatures of a late summer day, the combination of their crisp and freshness with the iodized side of caviar butter is an enchantment !
#caviarperlenoir #friendlyaperitifs #summer #goodtimes